A rather stunning Kenyan lady decided to take, on a social media platform, Facebook, her bedroom desires and is, what it seems, very serious on this matter.
Her name is Irene from Mombasa, Kenya. There as she says, is her home and where she works too. So she seems to have a good job that means she is financially independent, this is for the men looking for independent ladies that will not be a burden to them financially.
She continues to say that she is searching for a companion from any guy regardless of their tribe, religion and academic status.
So any tribe here is welcomed, as for religion, what's your taste in women, she does not despise any religion and she also adds that the level of your education is no issue for what she searches for.
"He should be descent in outfit, lively up, above 23 and ready for me alone…" She continues to lay out her desired qualifications in men. Dress elegantly, be humorous, above the age of 23 and be ready to be with her and satisfy her only.
She shockingly adds that she is not interested in a relationship that will lead to marriage. All she desires now is a man who will satisfy her in bed on weekends when she is off from work.
She goes on to warn jokers from playing with her single status and that any man interested in her should know how to treat ladies, guys she needs a gentleman.
Below is her post on Facebook: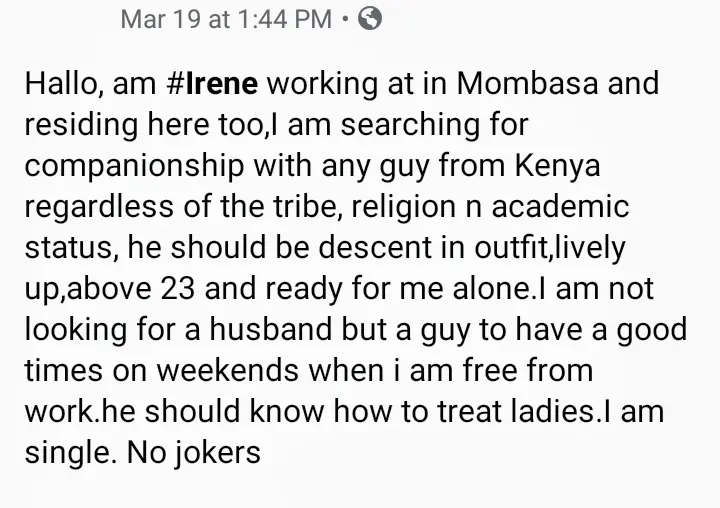 Who is up for her? Comment below to get in touch, don't forget to share so that more people can help. Thank you for reading.