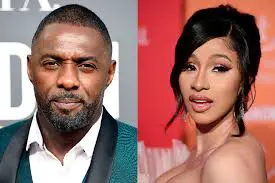 Hollywood and Versatile Actor Idris Elba has taken dig at Cardi B, and calling the female rapper stupid. The beef between Idris and Cardi was started by Cardi yesterday, when she suggested that many celebrities with coronavirus like Idris Elba were being paid to say they were infected.
According to Cardi, the coronavirus epidemic may all be fake.
In a video she did, Cardi explained to her fans, I see a celebrity come out and say, I have the coronavirus, but I don't have no symptoms [and you should] stay home. Cardi says that it sounded like a flat tummy tea commercial.
Cardi later suggested that the celebrities – like Idris, were getting paid to say that they had the coronavirus.
Well Idris is now fighting back against Cardi B's misinformation and he calls her stupid for her actions.
Idris told his fans, The notion that someone like me is getting paid to say I have the coronavirus is bullishit, just stupidness. . . And people who say it are stupid.
We await Cardi b response to this.