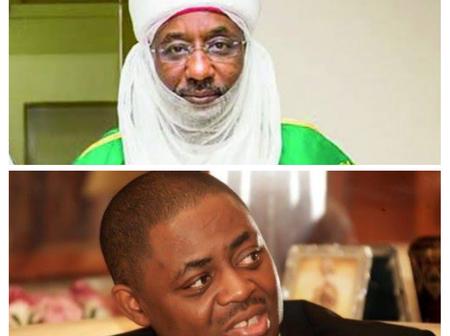 Nigerian former minister and socialite, Fani Kayode has revealed the truth about the death of of 11 persons and the beheading of ex Minister Akulaka after he accused dethroned and former emir of Kano.
The former minister of Aviation made this statement available on his official Facebook page on Monday after the dethronement of Sanusi Lamido as emir of Kano State.
Fani Kayode made this statement in his word, "the disposed" he led the angry mod with the head of Akaluka seperated from his body being paraded on a long pole.
Fani Kayode reveals;
"Now that he that beheaded Akaluka has finally been disposed. It is to bring his murderer to justice."
"Akaluka was beheaded after he defiling and desecration of the Quran Bible."
"He was executed by the security forces amongst all his conspirators ad was hidden from Abacha in Sokoto prison for 2 years."
"Banker whose son has been convicted of islamist terrorism ilon American soil begged Sani Abacha on his behalf and was later freed and was allowed to go into banking."
The report says that the young Igbo trader Gideon Akaluka who was accused of defiling the Quran that led to riot.
In December Akaluka wife was spotted using pages of Quran as tissue paper for her baby and this led to the arrest of Akaluka, was imprisoned. Later some groups of Muslim men broke into the jail, killing Jim and parading with his head in the public.
His lawyer obtained proofs that his client was no present at the time this incident occurred and the woman that was guilty of this crime was not his wife. Till now nobody has been held accountable for the murder of Akaluka.