Mike Tyson made a cameo appearance in Eminem's new music video titled 'Godzilla' – The boxing legend was filmed sparring with the rap artist in the recording – Tyson forgot he wasn't competing for any belt when he landed a powerful punch on the rapper Boxing legend Mike Tyson appeared briefly in Eminem's latest music video titled 'Godzilla' which featured Juice Wrld. The 53-year-old who retired about 15 years ago having reigned twice as the world heavyweight champion was filmed knocking out the rapper with his heavy punch. Despite leaving the boxing rings 15 years ago, the retired fighter seems to have found a new adventure to channel his energy into.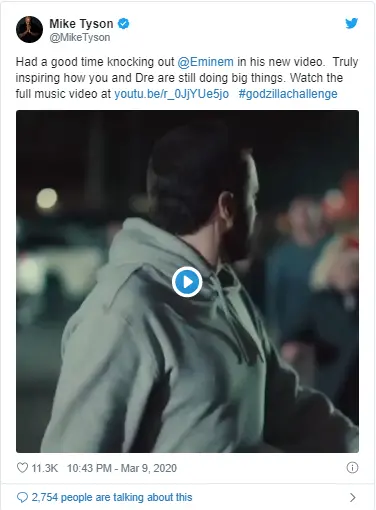 Daily Star reported that Eminem passed out briefly after Tyson landed his right fist on him before eventually regaining consciousness. The 47-year-old after being dazed by the blow said: "Oh what the f***?… Mike?" Tyson responds with: "Em, is that you? Ah, I didn't mean this. Please man, I'm sorry, please forgive me. F***."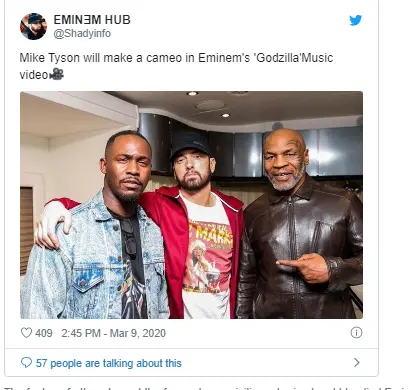 The footage further showed the former boxer visiting a bruised and bloodied Eminem in hospital and hilariously trying to put a plaster on the star while Dr Dre is acting as a doctor. Tyson tweeted with a clip of the video, saying: "Had a good time knocking out @Eminem in his new video. Truly inspiring how you and Dre are still doing big things." Meanwhile, Tyson recently opened up on his extreme power, saying: "I think I was born that way. "But I developed [my knockout ability] through Cus D'Amato telling me repetitiously over and over again to do this movement and to punch with this type of bad intentions.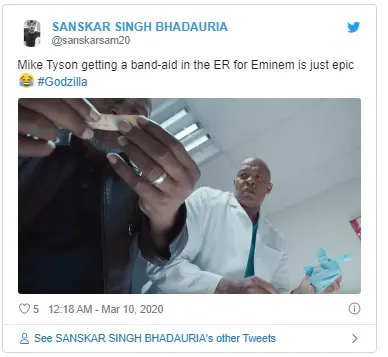 "And just to have ferociousness and mean intentions whenever you throw punches and stuff. And try and punch through your opponent, not at him. Legit.ng earlier reported that Mike Tyson is regarded as one of the greatest boxers in history and he shook the heavyweight division during his prime, cited on Hotboxin' podcast, Sportbible and Complex.com.However, the 53-year-old revealed he missed being who he was, as the most feared man on the planet in the '80s, but he does not want to live that kind of life anymore. Tyson held the heavyweight championship at the age of 21, and brutalized opponents in the division before suffering his first loss to James Buster Douglas.