On May 29, 2019, President Muhammadu Buhari cruised into his NextLevel administration with a brand new Mercedes-Maybach S 560 4MATIC Sedan worth over N74 million at a time extreme poverty entered new level under his watch between 2015 to 2019.
The new presidential car is a custom made by Mercedes Benz, it's manufactured on demand and only a few people use Mercedes-Maybach S 560 4MATIC Sedan throughout the World at the time of writing this article.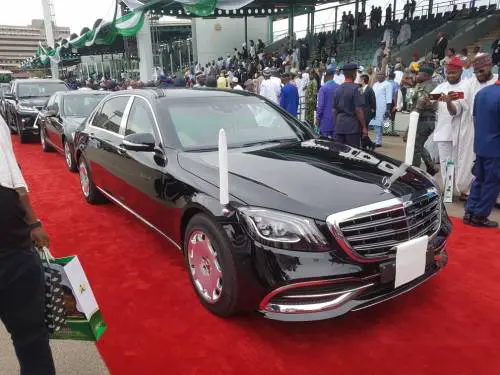 A check on the official website of the automobile manufacturing company revealed that the new Presidential car is $209,000 which translates to N74,822,000.00 at N358 to one dollar.
There is no doubt that the Nigerian Government under the stewardship of President Buhari acquired the new car because of its unrivalled comfort and unparalleled internal security mechanism considering the wave of insecurity across Nigeria.
Fulani herdsmen have been accused in the past for the horrendous killing of farmers in some parts of the country.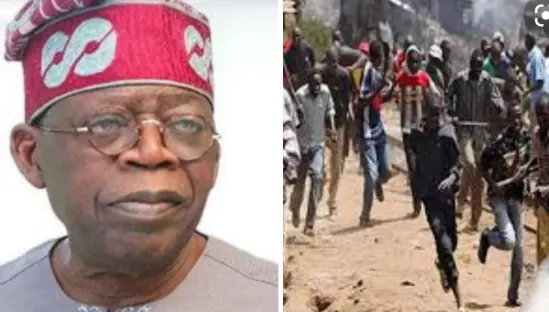 It can simply be described as a paradise on the move on the surface of the earth and President Buhari, just like Federal Lawmakers who cruise around city with bluetproof cars, deserves it to stay safe in the midst of angry poor Nigerian masses most of who find it extremely difficult to afford a square meal per day.
It's a vehicle to behold!
It's pathetic that most Nigerians live in extreme poverty, according to the World Health Organisation and Food and Agriculture Organization.
The new car acquisition for the president clearly shows that the Nigerian government is aware of the insecurity in every part of the country.
It's also a clear case of what transpired between a driver and a permanent secretary in Henry Barlow's "Building The Nation".
In the case of Nigeria, President Buhari needs to stay highly secured for him to implement his campaign manifestos for the general wellbeing of Nigerian helpless masses who elected him in 2015 hoping he would bring a new Nigeria into reality, but dejection and frustration have been the outcome between 2015 to 2019.
He has promised to make things better in his NextLevel government.
It's high time President Buhari emulated the ideals of former President Jose Mujica, who ruled Uruguay between 2010 to 2015.
Mujica is rated as the poorest president of a country ever, not because he chose to be poor or enter the Guinness Book of Record, but because of his love for the poor Uruguay sons and daughter whose standard of living was in a terrible state when he became the president.
It's also on record that Mujica donates more than of $10,800 (90%) of his $12,000 monthly salary to cater for the poor in his country and used the rest to assist small business owners who needed financial support, astoundable.com says
Instead of commissioning Toyota or Mercedes Benz to build the most secured car for him like Buhari, Mujica drove his old 1987 Volkswagon Beetle throughout his presidency.
Unlike Buhari who move around in his own country with security forces specially trained and strong to protect an entire city, Mujica security consisted of two guards and his 3-legged dog.
"I'm not the poorest president. The poorest is the one who needs a lot to live… My lifestyle is a consequence of my wounds. I'm the son of my history. There have been years when I would have been happy just to have a mattress," Mujica was quoted as saying.
This is the kind of leader President Buhari needs to emulate not the extravagant ones and being on the list of most secured president will not set Nigerian people free from the shackle of poverty they're entangled in.
If Buhari has the will to stop the unnecessary extravagant lifestyles of lawmakers in Nigeria, he needs to set the pace.
Those who risked their lives to cast their votes for him during the last presidential election mustn't be allowed to wallow in poverty in the next four years.
Nigerians need action, they need servant, not a leader.
In the words of Martin Luther King," Everybody can be great, because everybody can serve. You don't have to have a college degree to serve. You don't have to make your subject and your verb agree to serve….You only need a heart full of grace, a soul generated by love."
The narrative of "I'll leave Nigeria better than I met it" must stop. Buhari needs to show it in his action and ways of life.
Every Nigeria life should be precious not just the president's and his members of his family.