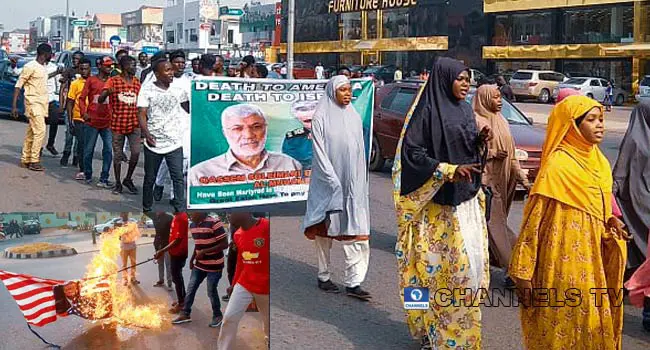 Yemisi Izuora
The United Kingdom has issued a warning that terrorists may likely hit Nigeria, just as it issued a security alert to her citizens in Nigeria.
The advisory comes in the wake of the tension between Iran and the US over the assassination of the Iranian military commander, Qassen Soleimani.
Soleimani, a top Iranian general who led the Revolutionary Guard Corps' Quds Force; and was widely considered as one of the most powerful Iranian leaders after the Grand Ayatollah; was killed in a US drone strike on Thursday.
The targeted killing is the latest escalation between the US and Iran. US maintains it is time to take Soleimani off the battle field.
Consequently, the security alert points to likely terrorist attacks and kidnappings in Nigeria.
''Terrorists are very likely to try to carry out attacks in Nigeria. Most attacks occur in the north east, particularly in Borno, Yobe and Adamawa States. There have also been significant attacks in Gombe, Kano, Kaduna, Jos and Bauchi States and in the Federal capital, Abuja. Further attacks are likely.
''There's a high threat of kidnap throughout Nigeria. Kidnaps can be motivated by criminality or terrorism, and could be carried out for financial or political gain. Anecdotal evidence suggests that the risk of kidnap increases after dark. The security environment in the north east has deteriorated since 2018 and there is a heightened risk of kidnap. Kidnaps in the north east have included humanitarian and private sector workers.
''There are also reports that Boko Haram and Islamic State West Africa (ISWA) are continuing to actively plan to kidnap foreigners. As well as in north-east Nigeria, this is believed to include some northern and middle belt states including Bauchi, Gombe, Kano, Kaduna, Niger and Adamawa.
"If you're working or travelling in areas where there is a Boko Haram or ISWA presence, especially in the north-east of Nigeria, you should be aware of the risk of terrorist kidnapping.
''Before considering travel to areas to which the FCO advise against all or all but essential travel; you should take professional security advice. Be vigilant at all times, keep others informed of your travel plans and vary your routines,'' the report recommends.
Meanwhile, the UK's Foreign and Commonwealth Office (FCO) has advised its citizens against all travel to certain locations in Nigeria.
The restricted areas include Borno State, Yobe State, Adamawa State, Gombe State; as well as riverine areas of Delta, Bayelsa, Rivers, Akwa Ibom and Cross River States. Furthermore, UK citizens have been advised to avoid travelling within 20 kilometers of the border with Niger in Zamfara State.
In addition, UK citizens have been advised against all but essential travel to a number of other locations. Among these are Bauchi State, Zamfara State, Kano State, Kaduna State, Jigawa State. Katsina State and Kogi State.
Further, the FCO advises against all but essential travel within 20 kilometers of the border with Niger in Sokoto and Kebbi; as well as non-riverine areas of Delta, Bayelsa and Rivers States. Also included in the list is Abia State.
Although the UK government admitted that it is not aware of specific threats against British nationals; it has, however, urged its citizens to avoid large crowds and public demonstrations in Nigeria.
Furthermore, it cites the Islamic Movement of Nigeria (IMN); which it claims has protested regularly in central Abuja and other cities.
The group has also shown solidarity with Iran since the assassination of Soleimani, with protests in Abuja.