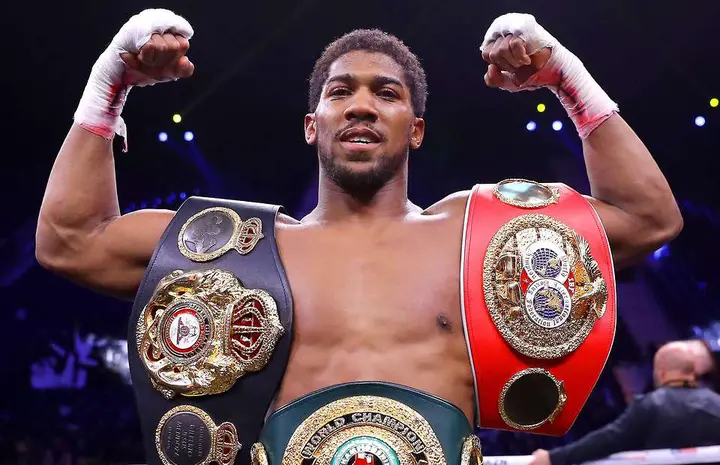 Anthony Joshua produced an impressive professional performance in his must-win rematch against Andy Ruiz Jr on Saturday night.
The 30-year-old regained his belts with a unanimous points victory over the Mexican, who pulled off one of the biggest shocks in boxing history when he defeated the Brit back in June.
Everything was on the line for Joshua, who knew that a second defeat would leave his career in tatters, but this was a brilliant tactical performance in Saudi Arabia and he thoroughly deserved his victory.
"First of all, I want to thank God," Joshua told reporters after the fight. "Next I want to say 'man, the first time was so nice, I had to do it twice'.
"A man like me don't make no excuses, my boy (Dereck) Chisora said I am ready to win this if I am ready to D.I.E.
"This is about boxing, I am used to knocking people out, but last time I got hurt, so I gave the man his credit, said I would correct myself again, I respect Andy so much.
"The sweet science of this sport is about hitting and not getting hit. Never a change in mentality, you know the saying 'stay hungry, stay humble' – I am hungry and I am humble."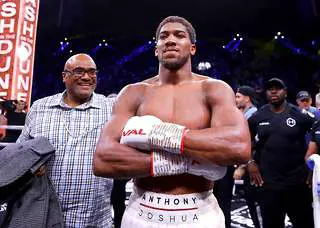 Although Joshua's victory was impressive from a tactical perspective, the fight underwhelmed some who'd paid for the fight expecting fireworks.
And shortly after the fight had reached its conclusion, 'Floyd Mayweather' was trending on Twitter.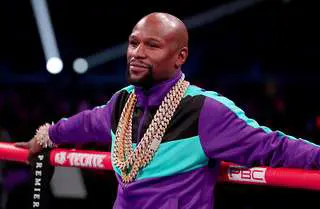 Why? Well, many people believe AJ's latest win was a Mayweather-esque performance.
High praise indeed, right?
Here's a selection of some of the best tweets…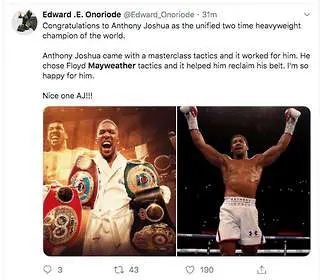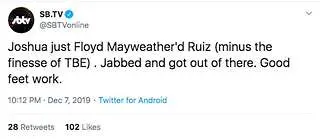 However, some people used the Mayweather comparison as a stick to beat Joshua with.
They seemed to be disappointed with the lack of entertainment the two-time world heavyweight champion produced during his latest bout…


To criticise Joshua after such a disciplined and intelligent performance seems bizarre.
He deserves immense credit for outclassing Ruiz Jr when everything was on the line.
And when you're being compared to Mayweather, one of the best pound-for-pound boxers in history, you know you must be doing something right.