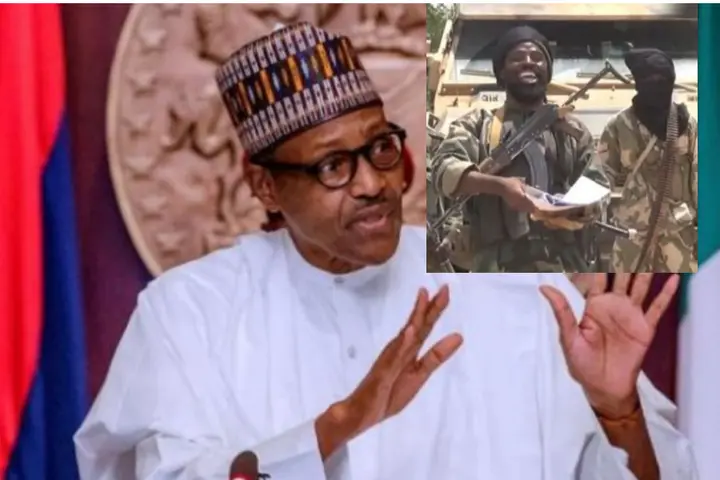 Nigeria's President, Muhammadu Buhari, may have been very cunning with his choice of words these days as it concerns insecurity and insurgency.
The president most likely has deliberately chosen to avoid certain words; take for instance, "Boko Haram", which he has avoided to mention,  and instead opts for the choice of  "bandits".
This was again brought to bear following the recent suicide bomb attack in Borno State that claimed more than 30 lives and injured many. President Buhari clearly employed this tactic again while reacting to the terror attack.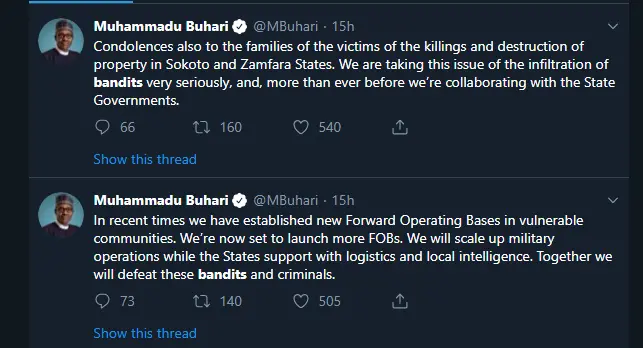 The attack happened on Sunday, in Konduga village in Borno State, according to officials of the state emergency management agency.
There is a conflicting report about whether the blast occurred while people were watching football or a film.
Even though no group has claimed responsibility for the attack, terrorist group, Boko Haram has been widely blamed for the attack, especially by international sources.
Reacting on Monday, a day after the attack, President Buhari deliberately avoided mentioning "Boko Haram" in his entire speech. while condoling the families of those affected, Buhari promised that "together we will defeat these bandits and criminals.'
"I commiserate with the families of the victims of yesterday's Viewing Center bomb blasts in Mandarari, Konduga LGA of Borno State. My deepest condolences to all those affected.

"We will ensure that the perpetrators are found and brought to justice, and we will also continue to give our law enforcement agencies all the support and resources they require to prevent these attacks and keep our communities safe.

"In recent times we have established new Forward Operating Bases in vulnerable communities. We're now set to launch more FOBs. We will scale up military operations while the States support with logistics and local intelligence. Together we will defeat these bandits and criminals." Buhari said on Monday via Twitter.
If you read the above statement carefully, you would notice that the president deliberately left out words like; insurgents, insurgency, Boko Haram, Terrorists etc.
This, however, did not start today. This pattern actually dates back to 2016, just after the president claimed his government had technically defeated Boko Haram.
Boko Haram insurgency became a very debilitating scourge on the nation during the administration of former President Goodluck Jonathan. The northeast was the epicentre, the insurgents held sway in many local government areas while seizing many territories.
This was going to affect Jonathan who would face Buhari in the 2015 general elections. Buhari took advantage of a very "juicy" situation to rise to power. Amongst other promises, the promise to end insurgency was the loudest.
He would soon claim power from Jonathan and walk the talk.
Buhari's assumed office in May 2015 and it wasn't long until the administration came out to annoyance it had dealt with the insurgent group.
President Muhammadu Buhari personally told the BBC in December 2015 that Nigeria had "technically won the war" against Islamist Boko Haram militants.
According to him, the militant group could no longer mount "conventional attacks" against security forces or population centres.
Maybe this was a little premature from the president who was eager to impress following a bogus promise.
Since after the statement of technically defeating Boko Haram, the president started a trend of deliberately omitting words like insurgents, insurgency, Boko Haram, Terrorists and now seemed to have perfected it.
Check out Buhari's tweets since 2016, where he had reacted to the issue of insecurity of insurgency.
The above statements were some of the many times the president had had to react to the killings and insurgency in the country.
So if not to avoid contradicting himself regarding the 2015 claim of having technically defeated Boko Haram, what else would make the President deliberately omit to mention Boko Haram and rather uses Bandits to qualify insurgents.
What's your take on this? drop your comments below.