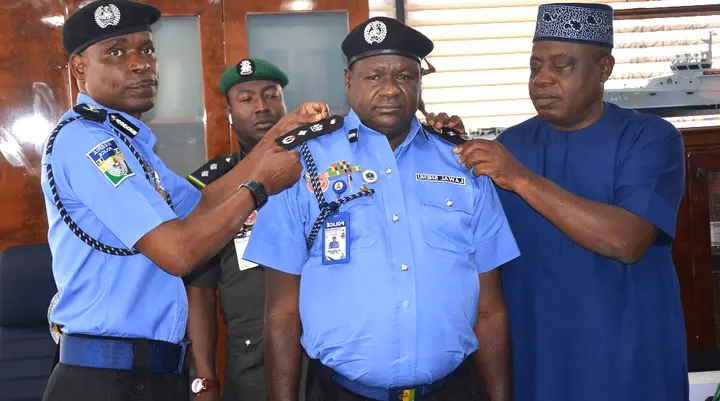 Some days ago, the Nigeria Police Force shared photos of some senior police officers who were promoted to the rank of Deputy Inspector General of Police (DIGs), on social media.
The newly promoted DIGs were decorated by the Inspector General of Police (IGP), Mohammed Adamu, at the force headquarters, Louis Edet House, Abuja.
But one thing that caught the attention of some Nigerians who reacted to the photos shared on Twitter was the obvious protruding bellies of some of the officers.
The twitter users were concerned about the fitness of the senior policemen and wondered if law enforcement officers should grow pot bellies, giving the nature and requirement of their job.
THE WHISTLER spoke to a retired Commissioner of Police, Olusola Amore, and a medical doctor, Clement Usoro, who gave differing views on if it is okay for police officers to grow pot bellies.
They responded to questions on if pot belly can affect the efficiency of a police officer.
Amore, who spoke in a phone interview with our correspondent, said pot belly in some police officers could be due to nature.
"That is nature and you cannot use nature to judge performance," he said.
The retired police commissioner said pot belly in senior officers at the rank of DIG cannot hinder performance because officers at that level of the force are not expected to chase after criminals or go on field operations.
"At that level of the force, it is managerial. Are you saying a DIG will go and quench riot? Are you saying a DIG will lead officers that would go and catch armed robbers?" he queried.
Amore said, "These are people at the strategic level, at the senior management level and definitely you know they are approaching a certain age. Their ages should be around 60 years. Go and look at people at 60, and if the work you are doing is sedentary and you don't have time to walk around, the tendency is that you will gett fat."
The retired commissioner also said the remuneration of police officers cannot afford them to eat healthy or eat what they would want per time
"It is only when you exercise that you are going to shed weight and it also depends on your diet. How much is the salary of a police officer that he or she would be able to afford to eat [what they want].
"Is it not carbohydrate that we eat all the time? That makes them begin to get fat."
Amore disagreed with the perception that pot belly can hinder a police officer from effectively carry out his/her duties.
He said a policeman can be potbellied and still discharge his duties effectively.
"So, on the issue of performance, you can be as tiny as anything and be as lazy as anything. And you can be fat and still perform. Because at the level which they are now (the DIGs), they are not in the operational front, they are not to quench riot. They are to think and write strategies that will combat crime. Even a commissioner of police is not in the combating front. They are also at the administrative or managerial [level].
"So, it is not the size, it is what they have up there in the head that will combat crime."
But asked if potbellied-looking officers can negatively affect the corporate image of the police force, Amore said even if an officer is obese, it won't affect the image of force if he/her does their job efficiently.
"Their size have nothing to do with the corporate image of the police, it is the performance of policemen that have to do with the public perception of the police.
"Even if all policemen are obese and they are able to put down crime and their town is peaceful, nobody will look at their size."
The retired officer said it wasn't surprising why people pick on Nigerian police officers as all over the world, even in the United Kingdom and the United States, nobody likes the police.
"Because the police are like the class monitor or the school prefect that will correct you. Everybody wants to abuse the law.
Asked if the size of a policeman's belly may be an indication that the officer is not keeping fit, he said: "It doesn't, and I want you to go and check the international association of chiefs of police (IACP) and look at the size of policemen in the U.S."
Amore insisted that senior police officers in Nigeria are not the people running after thieves, but the ones putting strategy on paper and coming up with plans on how criminals can be arrested, adding that "They are not fat in the brain."
THE WHISTLER spoke to doctor Usoro who works in a tertiary hospital as a consultant psychiatrist to get a medical perspective to the argument.
"For the normal physiology of a man, as you approach middle age (45-55), there is this tendency to grow potbelly…It affects every man irrespective of where you are or what you are doing," he said.
"But people that are physically active, like farmers who engage a lot of physical activities (are not likely to grow potbelly.
"You will expect security agents to be involved in a lot of physical activities. The pot belly tends not to come out [in such officers].
Usoro said pot bellies in officers is mainly can come from lifestyle harbits.
He said excessive consumption of carbohydrates, fatty foods, alcohol and lack of exercise are leading causes of protruding bellies in men.
"But for people that engage in sedentary activities (that are just required to sit down in one place), the potbelly will definitely show.
"So, your lifestyle is very important in whether you will have a potbelly or not.
"Then the type of food you eat. High concentration of carbohydrates and fatty foods will make it really bad. When you eat more protein and vegetables you may not have it.
"One important thing that tends to make it worse is alcohol. Alcohol is a big stimulator of potbelly and the reason is very simple, alcohol is mainly carbohydrate and water."
Usoro added the one may conclude that law enforcement officers who have pot bellies are either living a sedentary lifestyle or are consuming a lot of alcohol.
He disagreed with the ex-police commissioner's argument that senior police officers don't engage in field operations and hence may not be hindered by protruding tummies in discharging their duties.
"But as a civilian, if I am in the same vehicle with a Deputy Inspector General of Police (DIG) going somewhere, I will expect he/she to protect me because they are officers. It won't matter to me that the person is a DIG. I expect a policeman to be active and do his job. As a doctor I won't say because I am now a medical director, a sick person would come to me and I won't be able to attend to him.
"So, as a Nigerian, even if you're the Inspector General of Police, I expect you to be able to do your work which is primarily to protect the citizens."
Meanwhile, the issue of pot belly in police officers had prompted the governments in South Africa, India and Southeast Asian country, the Philippine to take action in the past.
A report by Reuters had described pot belly as "a more urgent problem" that Philippine police were facing besides fighting crime and chasing after criminals, forcing 3,000 policemen in the Philippine national police to join an eight-week shape-up program.
The country's police in the Calabarzon region had in July,2019, imposed flat tummy as a prerequisite for officers' promotion to next rank. The directive noted that police officers with pot belly would not be qualified to partake in the next promotional process.
In 2017, South African minister of police, Fikile Mbalula, read the riot act to policemen in the country over their "unacceptable" protruding tummies, saying: "You can't be a policeman and have a big tummy"
The police in the Karnataka State of India had in 2018 issued a circular threatening to "take action" against pot-bellied policemen after it was found that an average of 150 officers die in service yearly due to lifestyle illnesses.