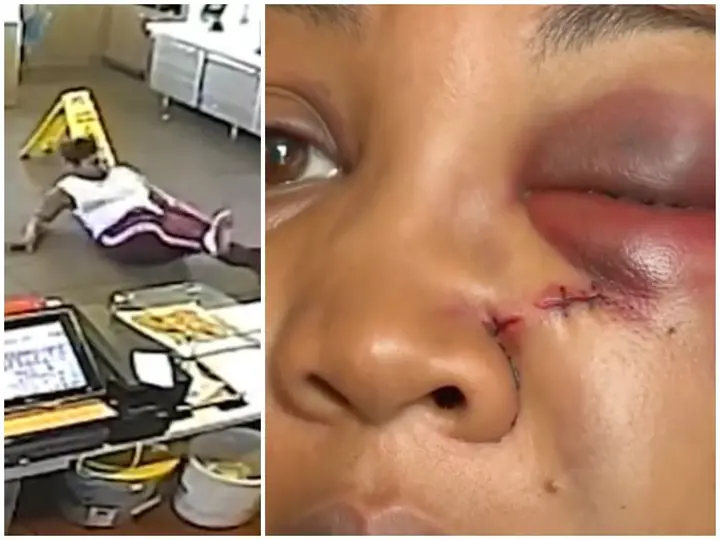 A McDonald's manager at an outlet in Colerain Township, Ohio, reportedly threw a blender at a customer after she complained about her order. 
Customer Britany Price suffered a fractured cheekbone, broken nose and a black eye after she was attacked by the manager, Nashawnda Johnson.
According to Daily News, Price walked into the restaurant and demanded that the manager fix her incorrect drive-thru order. Price then started throwing food at the employees.
"I wanted to get some Happy Meals and some cheeseburgers and that was a very unhappy day for me," she told NBC News.
Price said that the restaurant had botched her order of four Happy Meals for her children and she demanded a refund. After feeling as if she was being ignored, Price resorted to throwing her food at the employees.
Video footage shows Price throwing food at Johnson, to which Johnson retaliates by throwing a blender towards Price's head.
But Johnson claimed that the incident would not have escalated to this point if Price did not initiate the fight.
"She's the one who started this. It would've never went down like that if she would have never threw stuff at me.
"She threw chocolate milk and hit me in the head with it as I had my back turned. So I turn around. Here comes the apple juice. Hit me in the face. All the Happy Meals and brown paper bags. She just started going crazy,' Johnson said. 'So every action has a reaction. So while I'm getting assaulted, I just picked up anything that was right there and just threw it [the blender] back at her.", Johnson said.
Following the incident, McDonald's confirmed that Johnson is no longer working for the company.
No criminal charges have been filed, but Price's lawyer confirmed that a civil case against McDonald's is in the works.
Watch the video below.