Despite the fact she's been trending for days following the outburst on her ex-husband on social media over his sxxual weakness.
Tonto Dikeh has made her reasons known via her Instagram page on earlier today, Tuesday, May 7, 2019, while reacting to a statement from one of her followers.
The movie star had shared a post where she prayed that a number of women might have taken a lesson or two from her recent social media rants.
"I truly Hope you learn a thing or 2!! If it can happen to me it sure can happen to you!! Read lots of heartbreaking experienced emails and I wept for you more than I did me, For every pain out there God will heal you!! But best believe there is someone out there who will love you silly!! #Dont let the naysayers stop your process #KINGTONTO #MAMAKING," she wrote.
It didn't take long before a follower who apparently had a divergent view replied her. "I admired u till u brought the sxxual part public, honestly that part was uncalled for,"the follower wrote. Tonto Dikeh then went on to reveal the reason behind her comments on Churchill Olakunle's sxxual deficiency.
Tonto replied; "@ifygul so a man fvvcking man say im on drugs and i cant use his sxxual diease against him?? Ooo pls honey i sa8d more, For me i will drag your life from hell and back until im ok!! We all cant be d same you know💋"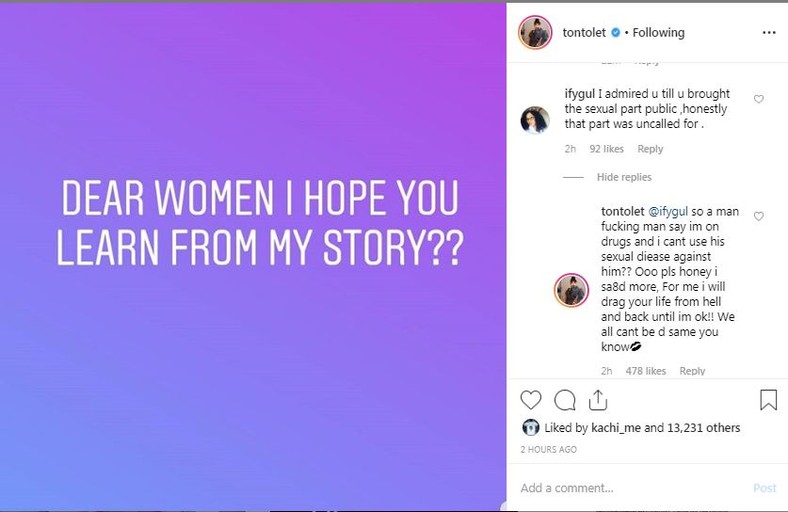 SEE: See 7 things that will happen the day Bobrisky and Tonto Dikeh fight
Meanwhile, self-acclaimed investigative journalist, Kemi Omololu-Olunloyo recently shared a video where she says Tonto Dikeh is just going through emotional abuse amidst husband saga.
Kemi said most men inflict serious emotional damage they rarely recognize.
She wrote:
"What Tonto Dikeh @TONTOLET is going thru is called "Emotional Abuse". It is a form of domestic violence Nigerians don't talk about. Forget all the components of yahoo, lies, etc. She is hurting. Men inflict serious emotional damage they rarely recognize"
Speaking of people who have interfered into Tonto's latest outburst, the actress has warned that IK Ogbonna should stay away from her personal life and mind his own business – else he should be ready to face her wrath.
What are your thoughts on Tonto's recent message on being a 45 seconds man?
Kindly share in the comment box below.